Obstetrics & Gynecology at SEIMC
Our dedicated team of experienced obstetricians and gynecologists provide exceptional care. The caring, multilingual team of doctors and nurses treat patients for a broad range of cases and they have rich expertise in many medical and surgical procedures.

Gynecology Services
Gynecological services at Shanghai East International Medical Center meet strict international standards and provide families with a comfortable and safe environment to address medical needs. Our team of experienced Gynecological specialists and nurses provide sympathetic and confidential treatments and are qualified to complete numerous complex medical procedures.

Our Gynecological services include:
• Routine Health Checks
• Gynecological Examinations
• STD Screenings
• Ultrasounds (3D/4D)
• Fertility Consultations
• Mammograms and Breast Examinations
• Laparoscopic and Hysteroscopic Surgeries
• Hysterectomy, Myomectomy and Ovarian Cystectomy Services
• Pelvic Floor Surgery

We have access to modern investigative and operative equipment and our specialists are qualified to perform any form of gynecological surgery.

For more information about our Gynecological services, or to book an appointment with one of our Ob/Gyn specialists, please contact us by emailing care@seimc.com.cn, or by calling our team at 5879-9999.

Maternity Care
Our international team of experienced obstetricians, midwives, neonatologists and pediatricians provide exceptional care for mothers and families living in Shanghai. 24-hour emergency phone lines and medical services are available for expecting mothers to directly contact our team at anytime.
Shanghai East International Medical Center offers comprehensive obstetric services for expecting moms during pregnancy and delivery including:
• High Risk Pregnancy Care
• Family Planning
• Neonatology
• Advanced Ultrasound and testing Equipment
• Private Delivery Suite and Jacuzzi
• Onsite Pediatricians for immediate Neonatal Care
• Fully-Equipped Operating Theater
• 2 Night stay after delivery including meals and newborn care
• Direct billing for most insurance companies
• 24-hour Comprehensive Emergency Care

Come have a Tour!
Our team can offer detailed tours to expecting families any day of the week. In addition to normal office hours, our team can also provide tours on Saturdays upon special request. Please call us at 5879-9999 ext. 1059 on book an appointment.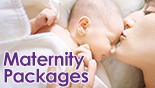 Prenatal & Birthing Packages
Prenatal Care:
Premier Prenatal Package (from week 24) RMB 15,000
Premier Plus Prenatal Package (from week 12) RMB 25,000
Delivery:
Normal vaginal delivery
Original Offer RMB 62,000; Cash Offer RMB 49,880
Includes 2 night stay in private room
Operative vaginal (Vacuum or Forceps delivery)
Original Offer RMB 72,000; Cash Offer RMB 59,880
through 3-4 night stay in private room
Original Offer RMB 86,000; Cash Offer RMB 69,880
through 3-4 night stay in private room
Epidural (or laughing gas) for vaginal deliveries RMB 5,880-6,880
For multiple births a surcharge of 20,000RMB will be charged for each additional baby