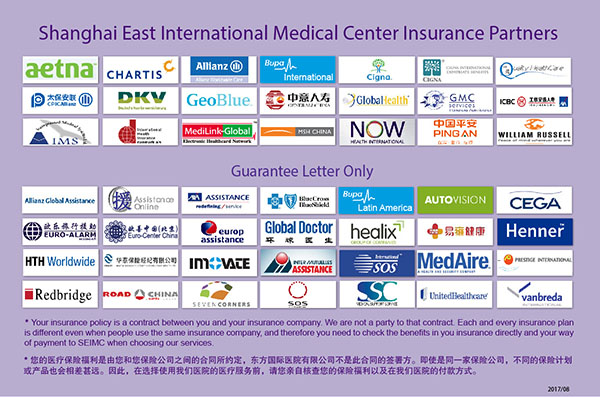 Payment

We accept a variety of payment methods including Cash (RMB), Credit Cards,Debit Cards, and Alipay.

Corporate Clients
If you are a corporate client and your company has a billing arrangement with us, you may not need to pay us directly for your visit. Please ask your HR manager for details. If your company is interested in establishing a billing arrangement, please contact us at marketing@seimc.com.cn for more information.


Direct-Billing
Our hospital has an extensive network of international health insurance companies. Shanghai East International Medical Center has established numerous direct-billing agreements to allow you additional flexibility when it comes to payment. Please note that although your health insurance policy may be through one of these companies, you may still be responsible for the payment of some, or all of your medical expenses depending on your insurance plan.
If you are covered by health insurance, we may be able to bill the insurer directly for your medical expenses. Please note that there are times when your coverage cannot be verified and we may require payment up-front. In these cases, we will provide all the required documentation to patients to assist them for making a claim with their insurance companies.
In order to take advantage of our "direct-billing" service, you will be asked to bring a copy of your insurance card, your identification and a valid credit card at the time of your visit.

Important Coverage Information
Please note that many insurance policies have set limits on the types of medical conditions are covered. In many cases, there are deductibles, co-payments, and exclusions which must be paid by the policyholder.
Most policies will also not provide coverage for dental service, maternity, or pre-existing medical conditions. We strongly recommend that you read your policy document and table of benefits very carefully. It is also a good idea to speak with HR experts or insurance agents if you have any questions.

Network Health Insurers